I am going to apply for the position of Country Representative of Pakistan. I consider that my profile is a good fit for this position and I will justify my candidacy based on the following possibilities and skills, which are prerequisites for this position.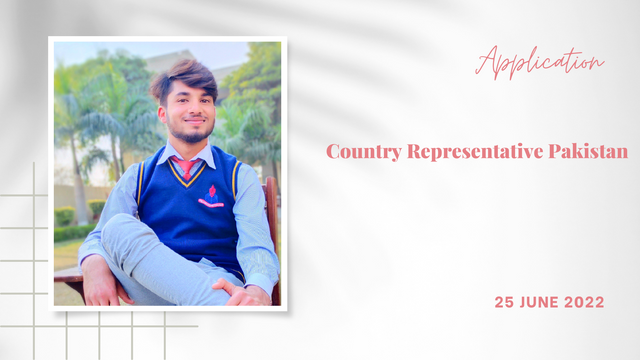 Canvas
Introduction to Me
My name is Allah Nawaz. I was born on March 27, 2003 "@allahnawaz03". I am 19 year old. I am a systems analyst by profession, the student of FSc Pre-Medical "Part-2". I am an immigrant in Pakistan. and I plan to stay in this wonderful country that has welcomed me and given me great opportunities. I am currently working in a beautiful town in the interior of the Province of Punjab "Chorasta Mian Khan". It is an Agricultural sector area.
My Account Statistics
I started on the Steemit platform on April, 2021, more than 1 years ago. At first, I dedicated myself to knowing, exploring and contributing my knowledge in the areas that I perform best. I started with my daily routine work and sharing gardening because I love to garden, sharing places in my country.
Being active on the blockchain for more than 3 months. Also, I've been more active since the inception Steemit-Garden Community last year.
I am currently joining the #club75 , which has allowed me to speed up my pace.
I currently hold 3522.235 Steem Power plus with about 200.604 SP delegated to Steem Bangladesh and 2,010.427 SP delegated to Steemit-Garden of which I recently assumed the role of a Mod - Moderator.
At least own 1,325.654 SP
From my steemworld dashboard, my reputation is 66.162 Screenshot below.
Voting CSI: 9.1 ( 1.56 % self, 67 upvotes, 55 accounts, last 7d )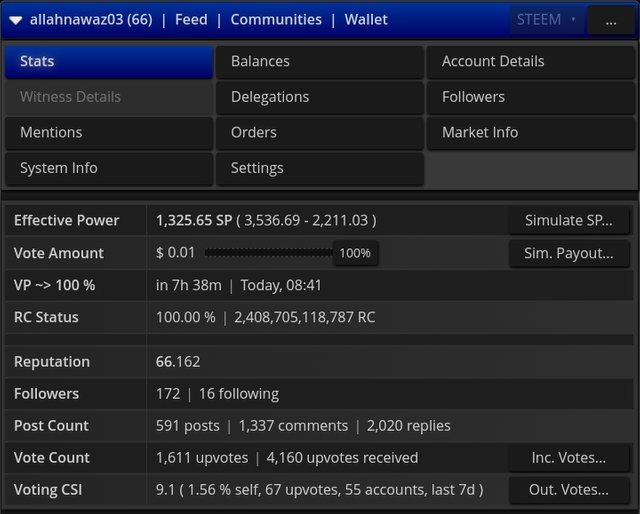 https://steemworld.org/@allahnawaz03
My mother language is Urdu but I used most English, Russian, Bengali.
I am active member in these communities as;
1. Steemit-Garden
Although I am currently working as a moderator in the Steamit-Garden community and trying my best to attract more people to the community, I am directing new people to the Steamit platform and since I joined the community as a moderator, the community is growing rapidly. In order to increase the participation of people in the community.
2. Steem Bangladesh
@steemit-bd has supported me very much and give me guidance time to time whenever I needed and I am thankful to the CRs of Bangladesh @toufiq777 for their help and guidance, now I am an active member and delegator in @steemit-bd and post there regularly and participate in all the contests they organized.
3. Steemit CryptoAcademy
Being an active user on Steemit, I am a part of Steemit Crypto Academy. Steemit Crypto Academy is the community where you can learn more about Steem and related crypto blockchains. I review all the Steemit Crypto Academy conferences and I always do at least 3-4 comments a week.
4. Newcomers' Community
I joined Steemit. I have helped many newcomers to create quality posts from time to time and how they can create good posts according to the rules of Steemit.
Some of my comments guide newcomers.
Here it is my Discord: allahnawaz03#7360
Why could I be a good representative in my country?
Because I am committed day by day to the development and growth of Pakistan boys since I really am very interested in supporting the boys and they know it and feel it. Also because I am responsible, loving, skillful, and after one years at Steemit I think I am ready to meet all the objectives as representatives.
I sincerely want to be able to contribute my sand grains and support other representatives of my country, for whose great work I am proud. I want to join the blockchain of all Pakistani boys and the best social networks in the world so that they can change their lives as they change me.
I thank all the boys who motivated me with their good wishes to make this application. Thank you for your support and for being active within the platform and for sharing your quality content with our beloved community. Thank you boys for the support I love you infinitely ...
I promise to work like this with dedication and integrity on Steemit in the future as well. If I get chosen as the Country Representative Pakistan, I'll continue to work with the same commitment.
Another important thing is to burn steems to make the steem stable in the market, so we should set the 25% beneficiary to the @null account. we should support all by using this tag #burnsteem25.