This is the 349 th Active Contest List
Don't waste your precious time searching the contest every day, Disconnected Rat can smell the contests and rat through everywhere.
Get the maximum out of these contests! Good Luck!

---
⭐⭐⭐ FEATURED CONTEST ⭐⭐⭐
Organized by @roseri
In this new challenge you will have to create some craft that you need for your home, no matter if it is big or small, we want to see what useful and functional ideas you are able to create..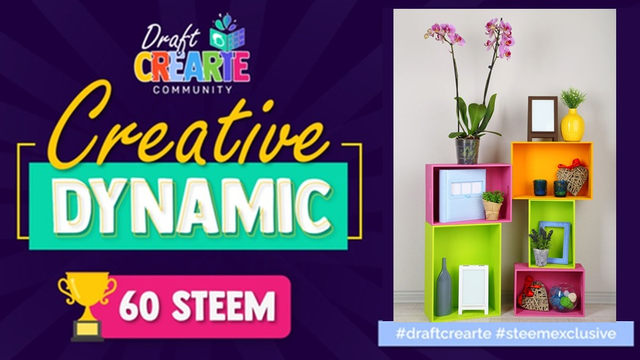 Image credit: @roseri
Your account must be verified in Draft Crearte community

Include the process by placing at least 5 PHOTOS

Deadline: 22nd May

Prize pool: 60 Steem
---
---

⭐STEEMIT ENGAGEMENT CHALLENGE ⭐
Season 01 - Week 04
👉 Full guidelines & Explanation: Announcement Post By Steemitblog
Make sure you enter as many of the contests as you can to be in with a chance of winning the great prize votes from steemcurator01.
---
---
These contests will run from May 15th, 2022 until 11.59pm UTC, on Sunday, May 22nd, 2022.
To have the best chance of winning in the Steemit Engagement Challenge you should enter as many of the contests as possible - but you can only enter one contest each day.
⭐ The Top 3 Contestants of the week to be received upvotes up to 30% from SC01
⭐ The Top 3 Contestants of the season to be received upvotes up to 100% from SC01

WEEKLY CONTESTS
Contests closing on

Thursday, 19th May
---
---
Contests closing on

Friday, 20th May
---
---
Contests closing on

Saturday, 21st May
---
---
Contests closing on

Sunday, 22nd May
---
---
Contests closing on

Monday, 23rd May
---
---
Contests closing on

Tuesday, 24th May
---
---
Contests closing on

Wednesday, 25th May
---
---
Contests closing after

Thursday, 26th May
---
---

Total Active contest on the list - 72
---
Disconnected Rat found 09 New Contests today
All new contests added on today are tagged with 🆕
---
Prize pool for the contests are 900+ STEEM & Booming Support for many contests
---
Today Steem Value - $0.25
---
Total Contests Value in USD US$ 200+
---
---
Disconnected Rat has a small favour to ask, leave some cheese on upvotes to show your love & Say Cheese! ❤️
---