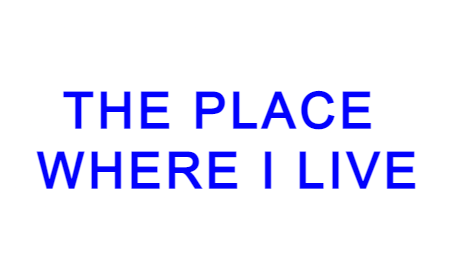 I thought it would be interesting to learn more about the cities, towns, villages and districts where you live.
So I am planning on running a series of contests about the places where you live.
First up will be an introduction to your city, town, village or district.
---
---
How to enter the Place Where I Live Contest
For this contest you should prepare an Introduction post about your city, town, village or district.
This should include...
The name of the city, town, village or district.

The location of the city, town, village or district - the country and the province or state.

The population.

A short introduction about the city, town, village or district (no more than 300 words), including mention of what type of local government you have, a brief history, any major industries or tourist attractions etc.

A map showing the general location.

Up to 3 photos (of your own).
It will be good if you can also include a list of other currently active Steemians in your city, town, village or district. (Check with them that are okay to be included).
---
You should write the post in your own words - not copied from Wikipedia or any local information site.
Sources of local data and facts such as population should be cited. As should any maps, graphs or tables.
Photos should be your own.
Posts can be in any language, but you can optionally include an English version in addition to your main post in your first language.
Please add #whereilive and your #country tag among the first four tags, and put a link to your post in the comments below.
The title of your post should be...
THE PLACE WHERE I LIVE #1 : Name of your village, town, city or district, Country
---
---
Rewards
I will be voting on good posts, and giving TRX rewards to the best posts.
There will be a total prize pot of 500 TRX to be distributed to the best posts depending on post quality and club status.
As well as content, quality of presentation will play a significant part in selecting the winners, so spend time to ensure your posts look good.
The contest will run until 11.30pm UTC on Monday 11 July 2022.
---
---
I look forward to reading your posts for this new contest.
Please only enter if you are comfortable in giving details of the village, town, village or district where you live.
Thank you
Pennsif
---
---
[ images and graphics by @pennsif ]