Welcome to S-H-E-P, my friends.
Steemit's Hospitality and Engagement Platform.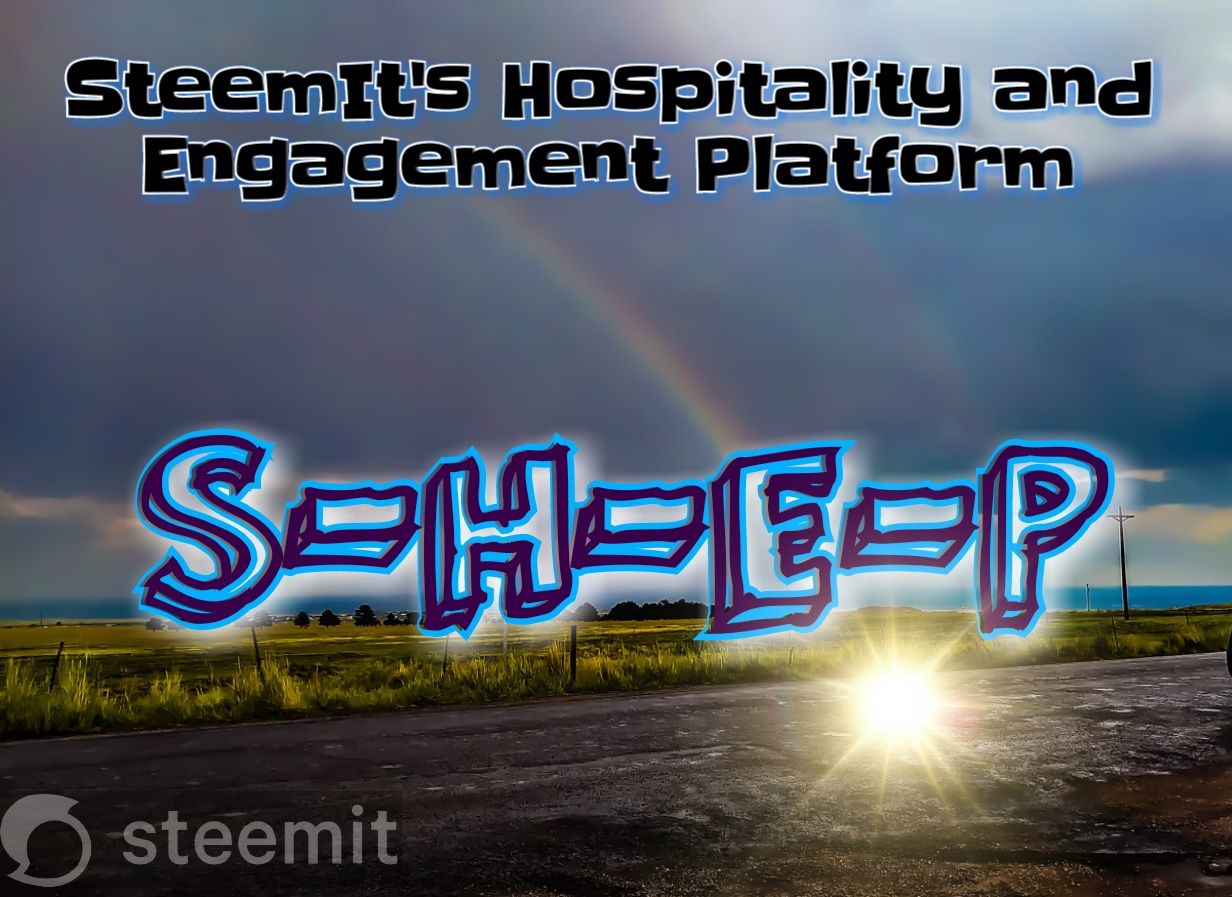 @coyoteom and I have a lot of work to do. The first thing is to create the descriptions and instructional blogs for each of the new channels. We apologize this hasn't already been done. Things have been moving a bit faster than we expected and neither of us were immediately ready for the amount of online time this initiative requires.
There is no need to wait for us, though. All you need to do is post your blog describing your need and what you offer under the tags we recently named:
#kin-shep for Hosts, Kin in Need and Community Organizers
#shep-heard for Travelers, Workers, and Volunteers
Our first post announcing the initiative explains in detail the process and we even offer example templates for organizing the details in your blogs here.

This week we hope to get the channel descriptions posted and separate instructions for how to use the platform on the corresponding channels. We are also flirting around with creating the banners. Stay tuned, we may be running a couple new contests to get this done or, in the spirit of S-H-E-P, if you would like to donate a graphic or two, we will not be offended.
As a general note, @notconvinced and @coyoteom will be co-running the @s-h-e-p account. @coyoteom will be curating and creating posts for the @kin-shep account and @notconvinced will be curating and creating for the @shep-heard. We are both new to running channels, so bear with us while we become adjusted to the change. 😜
---
Why we believe platforms like S-H-E-P are necessary.

There are many ways for Steemians to connect through Social Media, but most of them are purely digital. Society is becoming more apathetic because of this.
If you have been paying attention at all to the studies that have been coming out en masse lately, you are seeing a common theme and trend. People are better connected than ever, but are prefering to do so mostly through technology, rather than face to face. The word addiction is getting thrown around quite a bit and depression seems to be the norm these days. There are many reasons for this, but our digital culture is a significant contributor. It's too new and a healthy balance is yet to be achieved. We hope initiatives like S-H-E-P are part of the solution.
Money issues are hands down a huge stressor and just about any negative action you can think of, can be reduced to selfishness. If you can use Social Media to its full potential and ease the need for money to survive and actually increase face-to-face interaction, then we can better balance the negativity.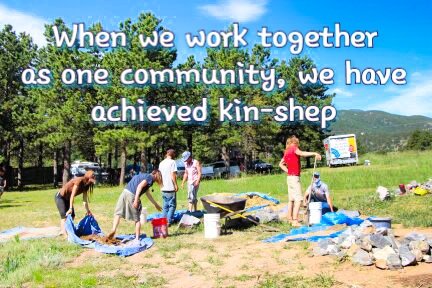 That's the intention of S-H-E-P. Bringing Steemians together in the flesh for mutual benefit, both psychologically and monetarily.
S-H-E-P is a community that has two wings, which brings together those who need a little help with others looking to give their brethren a hand or simply make new friends. It is bringing the two together into one, which is the natural order of life. Everything is part of the whole.
One wing represents the Hosts or folks asking for a hand in maintaining or organizing projects and we named this wing kin-shep. The second wing represents the Helpers or Traveling Volunteers willing to help out their brethren and wash their own dishes, for example, rather than pay to have a stranger wash them and we named this wing shep-heard.
Our kin are less mobile. They have a place they are tending whether it be a homestead, apartment, urbanstead, or penthouse with a life that requires money to maintain, repair, enhance, furnish it, babysit the children, or even simply pay the mortgage. Between earning a living and living, 24 hour days aren't quite long enough. A huge chunk of all of our lives are used just to earn enough to get by, not to mention the time it takes to get ahead.

If a person is in need of a safe shelter, a warm shower, friendship + meals and are willing to barter their labor or knowledge, rather than purchase these goods, S-H-E-P gives them a platform to do so. It creates another option, lending to a more voluntary life.
If you didn't have to worry about having enough money to pay for room and board, would you travel more often?
I would, for certain!
S-H-E-P is a back-to-the-basics approach to living life. I mean actually living it. Not slaving away so you are able to purchase a bit of time to live just when you can afford it.
---
I am going to tell you a little about myself, @notconvinced to help you understand my personal connection to the idea behind S-H-E-P.

Nine years ago I left my place of birth after inhabiting the same area for the first 34 years of my life. I had only traveled out of state two times for a weekend each. My life had become routine, like so many that live within the box society or Central Authority has created for us. If you are like me, routine just doesn't satisfy our random nature.

The economy changed, forcing me to adapt and pushed me out of my comfort zone. So I left my home state with $900, the few belongings I could fit in my Bonneville, my dog and no real plan. I moved around from one state to another, renting rooms off of Craigslist, staying in each long enough to see if was the place to call home.

Since, I have lived in 9 states, traveling to many more and have found the nomadic life to be my calling. A happiness I was never able to achieve,attempting to find success as defined by society, was now at my fingertips.

During this time, I was fortunate to meet a couple that changed my life. They have since become my family and I met them by renting a room from their neighbor and through daily interaction and helping each other out, we became friends. They are an elderly couple named Tom and Jean.

These two are a couple of the best people I have come across in my life and over time I moved away, keeping in touch. I got myself into a pinch a time or two, which they came to the rescue, giving me a place to stay no questions asked.

During my stay, they had many issues I was able to help them with. Because I was able to fix their vehicles, plumbing, landscaping and even just use the internet to find solutions to their problems, they called it even and never charged me a dime.

Like I said, they are elderly and Jean lost her wits and mobility years ago, because of a few minor strokes. Tom has been minorly disabled all his life and being in his seventies, his senses are leaving him as well. They have a 50 year old son living with him, but he has mental disabilities himself and they have to take care of him. They have no one to take care of themselves. Well, except me!😀

That's where I come in. I am the reason they are able to grow old in the comfort of their home. It's a perfect symbiotic relationship, that is of great benefit to both parties. I am so grateful to them for allowing me to live my simple life outside of the system and currently live my life as a shep-heard.

Four years ago I came to the conclusion that my way of living was my destiny and that I could never be happy living within the box society has created. Knowing that it was just a matter of time before Tom and Jean needed me around full-time, I decided to get as much travel and adventure in as possible now, because soon I'll be mostly bound to Omaha, without the ability to have my current mobility.

I researched for months before finding Wwoof and helpx. These types of services gave me another option to live, just as I have been, while taking working vacations offering my skills to those that could use them in return for friendship and knowledge swapping. This way of life has taught me how to live minimally, independently and to be more in sync with nature.

I currently live in a tiny home and am 80% off grid, with the ability to be 100% when the need arises. I will be turning my urbanstead into an Urban Permaculture Paradise this summer. My goal is too be 95% self-reliant.

S-H-E-P is 100% free and it's use on the SteemIt Platform allows for everyone to earn from sharing their lifestyles. Hopefully blogging gives many of us a good secondary income. This allows for an alternative way to live, other than living by the rules of a few, outside of the current economic atmosphere.

For this reason, S-H-E-P is my baby and I will endorse this platform with all my heart to ensure its success. I believe this not only brings back the best elements of the less technological age of the past, but is the healthy type of engagement we need to be better in the future.

I am going to make a series on my personal account @notconvinced, which I will occasionally resteem in the appropriate S-H-E-P accounts. This series will focus on promoting S-H-E-P by giving you, my friends, an intimate peek into my life. This is personal for me and not just a way to succeed on Steemit, but to help Steemit succeed.

I will be definitely be using
S-H-E-P this summer and hope to meet many upstanding Steemians. I am very interested in acquiring a lot more Natural Building experience. Stay tuned for my blog in #shep-heard.

I also have a bed, warm shower and meal for any Steemian that travels through Omaha, NE and needs a comfortable nights sleep after a long days drive.

Thank you for sharing your time with me.

Please make sure to get outside and record it for others to enjoy.

#PayItForward because someone has done right by you.

And most importantly, help keep our area's clean by practicing Leave No Trace Principle's.

source

---

Photographs and divider's are the original content of @notconvinced


This post is an OFFICIAL PORT on @dreemsteem's "X Marks the Post" Treasure Hunt.  If you'd like to become a treasure hunter, an official stop, or a sponsor - Follow the map to begin your journey! By the way, she loves good comments even more than upvotes - so be sure to say Hi!