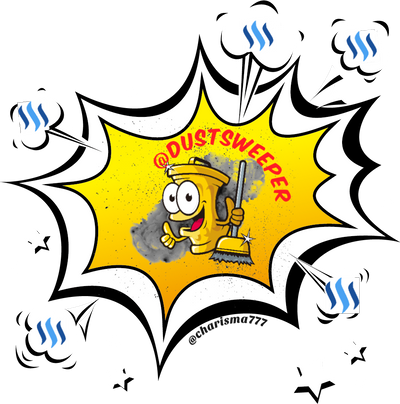 Ever since we released Dustsweeper we have had requests to make it possible to send gifts to other users. These requests came from experienced users wanting to help out newcomers, or users hosting contests wanting to give away Dustsweeper credits.
If you are new to @dustsweeper please check out these two posts to understand what Dust and Dustsweeper are all about:
Dustsweeper Gifts Are Now Available
The idea behind this is simple. Send an amount to @dustsweeper and tag a user, then the money will be credited to the tagged user instead of the one doing the transfer.
To avoid picking up random transfers there is a specific format to follow. If you make a mistake or if you misspell the STEEM username, the money will be credited to the sender instead.
How To Send
Transfer money with a memo using the following format:
To: @davemccoy
Here a few rules to follow:
The memo MUST start with the three characters to:

CASE is NOT important. The memo can start with TO:, To: tO: or to:

The word To: MUST be followed by a valid STEEM username.

The username can be written with or without the @symbol.
To: and the username can be separated with space, or not, but NOT with any other characters.
The username MUST be followed by a space. After that, any text can follow. The text you add won't be passed on to the user.
Here are some valid examples for sending a gift to @davemccoy. 😀
To: @davemccoy Here is a gift for you!!
to:davemccoy
to:@davemccoy Go and get that dust
User notifications
When you are sending a gift to another user, they will receive the following memo, confirming the transaction:
davemccoy, you have received a Dustsweeper gift from danielsaori. $X.XX of upvote value has been added to @dustsweeper. Current balance is: $X.XX of upvotes.
This is what @davemccoy will receive if I send him a gift from my account.
Send from an exchange
Not sure this is interesting for many people, but if you thought about it, you might have realized that you can now use this method to send money from an exchange. Either to top-up your own account or in case you want to send an anonymous gift to someone. 😀
Bug fixes
@cadawg reported a potential abuse situation if someone would try to send hundreds of $0.002 top-up transactions to dustsweeper, get $0.001 back with the reply transfer and get $0.004 added to the balance.
To avoid this, Dustsweeper will now subtract $0.001 before adding the transferred amount to the balance. This is active for small transfers to Dustsweeper.

Designed by @charisma777
Thank You For Your Support
@dustsweeper, aka. Dusty, will soon celebrate her 1st month in action. It has been a few amazing weeks so far and we are excited to see what the future will bring.
A big thanks to all members and supporters!!
We would like to make a Shout-Out to @jackmiller and his two donations of 5 SBD each. The first 5 SBD we used in a "nominate a Friend" game, where we gave out $10 in Dustsweeper upvotes spread over 20 users. Please find the winners announcement post here: Dustsweeper $10 giveaway contest
The other 5 SBD will be used in an upcoming contest. Please stay tuned for that.
If you read this please help us send some love to @jackmiller. He is also a witness, so if you have a vote to spare, consider voting for him. Thanks!!
Stats
Dustsweeper is growing quickly and @davemccoy and I are excited to see the response. Here is a brief overview of the latest statistics:
350 Users are registered.
$600 in total outstanding upvote balance for all users.
A total of $85 saved from turning into dust.
---
---

ps. If you wonder about the cool @dustsweeper graphics above, they were all designed by @charisma777. Please check out her post: https://steemit.com/dust/@charisma777/a-gift-for-dustsweeper
---
Please consider voting me as a Witness.