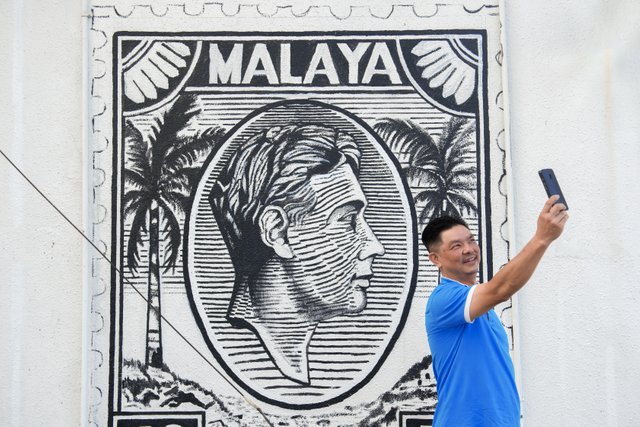 Is #ColorChallenge again! And Friday for Blue color.
又是 #ColorChallenge!星期五是蓝色。
Inadvertently in Penang Street, the old street is characterized by a lot of beautiful wall painting behind the shops. Along the way, I met a tourist doing selfie with blue shirt and it is matching with today's #ColorChallenge topic. I have captured the beautiful moment with this funny comparison between tourist and the wall painting.
漫不经心的在槟城老街走走看看,这老街的特点就是在店屋后都有着很多美丽的壁画。沿路上遇到一位穿着蓝衣服的游客在自拍,刚好符合今天 #ColorChallenge 的蓝色主题,再加上游客和壁画的对比有趣画面,我就将这一幕给拍摄下来了。
Hope you will like this photo too.
这个画面太有趣了,希望你也会喜欢。
You can refer to the following camera settings:
你可以参考以下的相机设定:
| Camera | Nikon D800E |
| --- | --- |
| Lens | 24-70mm |
| ISO Speed | 800 |
| F-Stop | f/5.6 |
| Exposure Time | 1/800 sec |
| Exposure Bias | +1 step |
| Exposure Program | Aperture |
| Metering Mode | Pattern |
| Flash Mode | No flash |
| Focal length | 44mm |
Perhaps you like my artworks and do follow me.
Let my artworks tell you story through my lens.
希望你会喜欢我的摄影作品和跟随我,
让我用镜头为你说故事。