It's been long
6 years ago on 8 April 2014, Our co-founders @tmlee and @bobster introduced CoinGecko to the world because they wanted to solve an issue they faced personally. You can read more about it at our personal blog.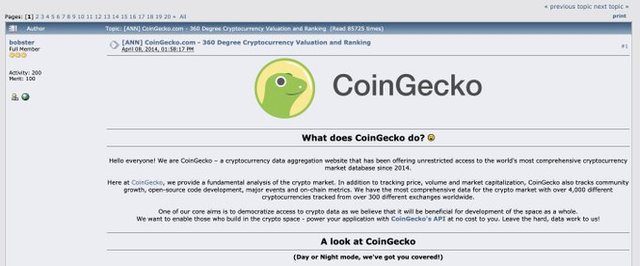 Our ANN page on Bitcointalk, which was edited a few months ago to reflect the changes
Much has changed in the crypto-blockchain space that the @coingecko today really has grown so much from the CoinGecko that was first introduced to the world.
We're happy to receive the support from everyone in the space and to continue being our fans through thick and thin. Things may look different on the surface here at CoinGecko but ultimately we can say that we still very much hold true to the values that made us started CoinGecko.com way back in the day.
As a crypto data provider, we will continue to be impartial, factual, and strive to be as accurate as possible. Also, we're just an email/DM/comment away if you want to reach out to us. We're always happy to hear from you guys.
Quick Plug
We've released our First ever book, "How to Defi" (Steem post here) to give you the ultimate beginner's guide to the DeFi space.
Here's what the editors over at CoinTelegraph said about the book: "It is written in a very easy style that I think most people who are interested in the subject would be able to follow."
Give it a read, you can download it for free at https://landing.coingecko.com/how-to-defi/