Hello Steemit,


We are proud to announce that we have just updated our Trust Score to incorporate Hacken's CyberSecurity Score!
In May 2019, we launched our Trust Score and became the first major crypto data aggregator to have a comprehensive exchange ranking methodology beyond just trading volume.
Building on the success of its two earlier iterations, our partnership with Hacken is another step forward in improving transparency in the crypto space.
"With Hacken's expert help in evaluating exchanges' cybersecurity practices, we aim to bring awareness on the urgent need to improve cybersecurity and protect user funds through the abolition of unsafe cybersecurity practices," said TM Lee, our Co-Founder.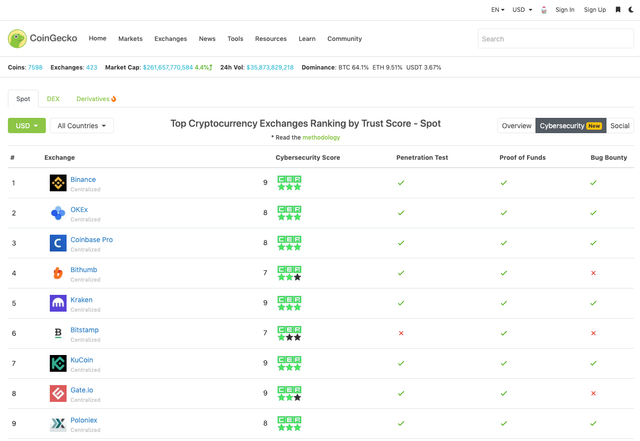 Trust Score Weightage with CyberSecurity:
With the introduction of Cybersecurity, Trust Score is now evaluated based on Liquidity, CyberSecurity, API coverage & Scale metrics on a scale of 0 – 10.
Liquidity (5 of 10) – Exchanges are one of the liquidity hubs of the crypto ecosystem, moving billions of US dollars equivalent in user funds on a daily basis worldwide. Having actual liquidity remains as one of the most important criterias of evaluation.
CyberSecurity (2 out of 10) – Tying in with the fact that crypto exchanges have substantial monetary holdings, their ability to maintain a secure operational environment then becomes a very important evaluation criteria.
API Coverage (2 out of 10) – API measures technical coverage, as well as data availability which are also important factors to consider for transparency purposes throughout the evaluation process.
Scale (1 out of 10) – Scale is a statistical analysis that measures and compares the trading volume & order book depth of among exchanges.
You can read more about it here.