An unprecedented number of fires have raged throughout Brazil in 2019, intensifying in August. There have been more than 80,000 fires so far this year, the most ever recorded by the country's National Institute for Space Research (INPE). It's a nearly 80 percent jump compared to the number of fires the country experienced over the same time period in 2018. More than half of those fires are taking place in the Amazon.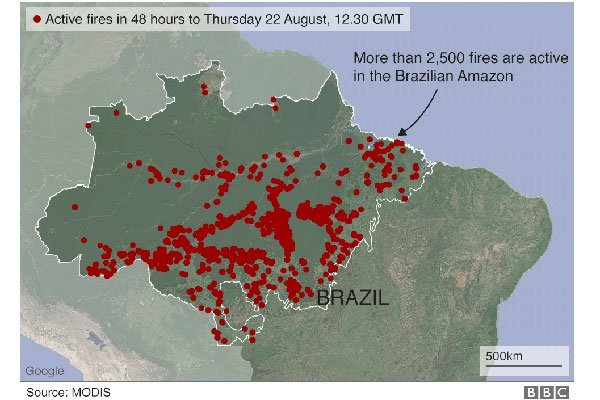 More info in the article
https://www.theverge.com/2019/8/28/20836891/amazon-fires-brazil-bolsonaro-rainforest-deforestation-analysis-effects
My thoughts on this news
The Amazon rainforest is a very important ecosystem for planet earth because it produces 20% of the oxygen we breathe and need to survive. Destroying this forest will literally make it harder for humans to breathe because there will be less oxygen on earth. A lot of these fires have been set intentionally to make room for corporations to come in to grow crops and have land for cattle. The greed of humans is making the planet uninhabitable for humans, the Amazon forests have been the lungs of earth long before even humans were on this planet and now humans are destroying it for a quick profit...