Der neue Pet Tracker für Minnie Maus ist gestern angekommen.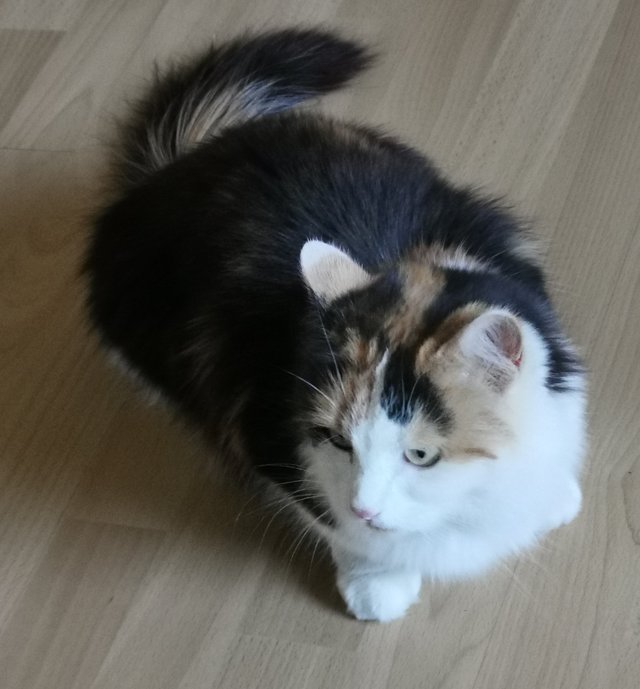 Es ist gar nicht so leicht einen Tracker zu finden, der klein genug für die Katze ist. Da ich im Grenzgebiet Deutschland/Niederlande wohne muss der Tracker auch Länderübergreifend funktionieren. PetPointer war da prima, leider ist die Firma in Konkurs gegangen. Eigentlich wollte ich den Tracker von der Telekom haben, aber leider war dieser viel zu gross. Also habe ich mich für Tractive entschieden.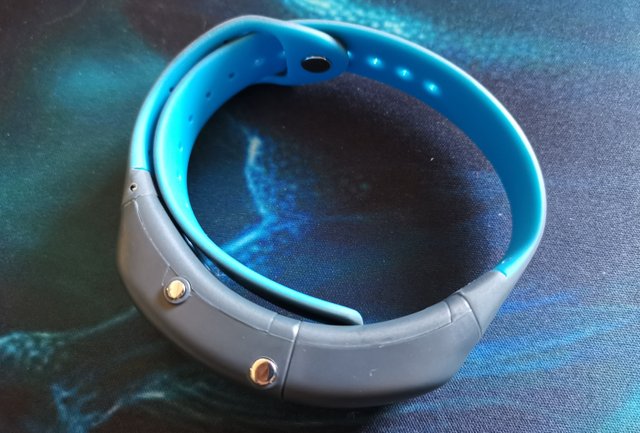 Er ist zwar immer noch wesentlich grösser und wuchtiger als PetPointer, aber doch viel kleiner als die Tracker der anderen Anbieter.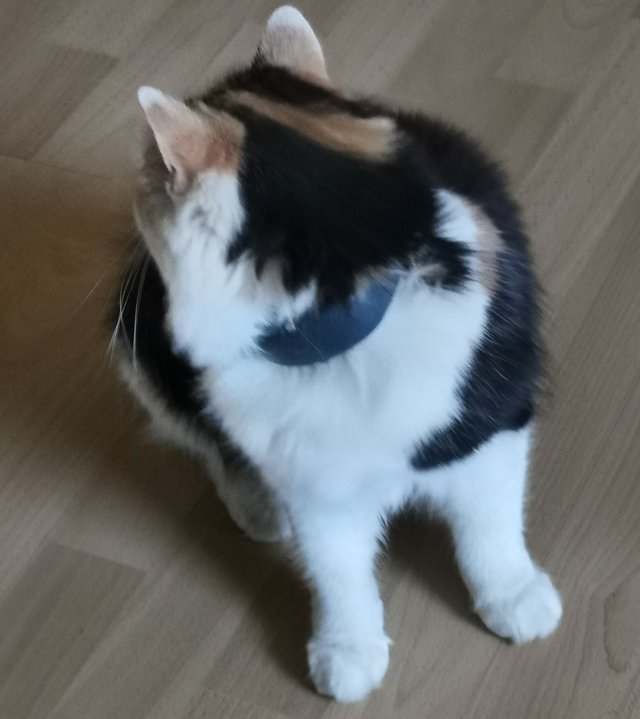 Die Aktivierung ging relativ einfach vonstatten, allerdings habe ich mich nach meiner Erfahrung mit PetPointer nur für ein einjähriges Abo entschieden.
So weit, so gut - jetzt kommt das grosse "Aber" ....
Die erste Lokalisierung direkt nach der Aktivierung war doch sehr ungenau: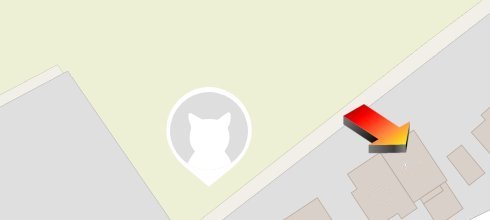 Der Tracker lag genau dort, wo der rote Pfeil hinzeigt - also weit weg von der Postion, die von Tractive angezeigt wurde. Ich habe Tractive angeschrieben, ob die Angaben immer so ungenau sind, aber bis jetzt erst mal eine "Ihre Rückfrage ist angekommen, wir kümmern uns darum und melden uns bei Ihnen" Antwort erhalten. Allerdings enthält die Mail auch den Hinweis, wie man sich bei dringlichen Anfragen (z. B. Tier verschwunden) an Tractive wenden kann, aber meine Frage ist jetzt nicht dringend, von daher warte ich ab.
Heute dann ein zweites Tracking, nachdem der Tracker über Nacht geladen wurde. Dieses Tracking ist zwar ein wenig genauer, aber immer noch weit weg vom eigentlichen Lageort des Trackers: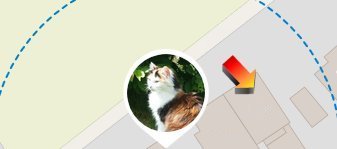 Zwei Häuser Differenz finde ich doch ein wenig zu viel - wie soll man denn da eine Katze finden?
PetPointer war da um einiges genauer, leider habe ich nicht viele Screenshots von PetPointer gemacht. Ich finde nur noch einen. wo ich die Aufenthaltsdauer aktiviert hatte: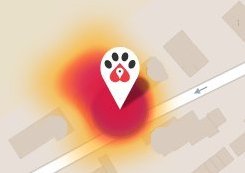 Mit etwas Phantasie kann man erkennen, das die Dame (oder der Tracker) zum Zeitpunkt des Trackings zu Hause war.
Ich muss das einfach mal beobachten. Minnie ist seit wenigen Minuten mit dem Tracker untwergs, schaun wir einfach mal.
English Translated with www.DeepL.com/Translator
The new Pet Tracker for Minnie Mouse arrived yesterday.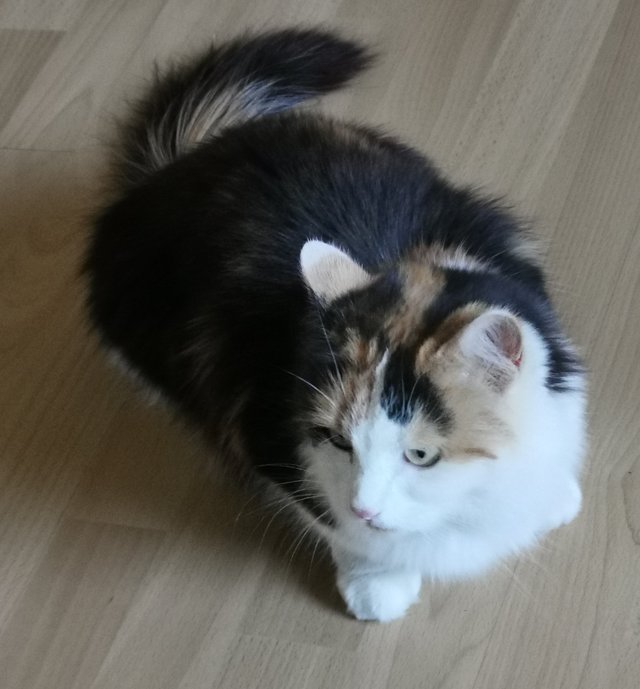 It is not so easy to find a tracker that is small enough for the cat. Since I live in the border area Germany/Netherlands, the tracker has to work across borders. PetPointer was great, unfortunately the company went bankrupt. Actually I wanted to have the tracker from the Telekom, but unfortunately it was much too big. So I decided to use Tractive.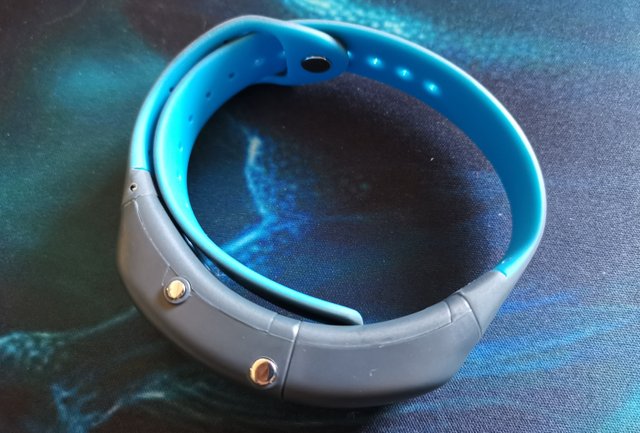 Although it is still much bigger than PetPointer, it is much smaller than the trackers of the other providers.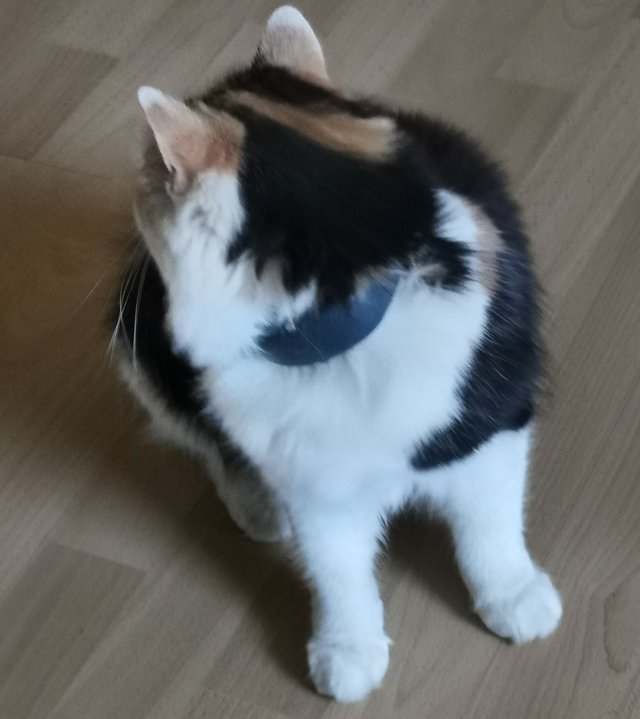 The activation was relatively easy, but after my experience with PetPointer I only decided for a one-year subscription.
So far, so good - now comes the big "but" ....
The first localization directly after activation was very inaccurate: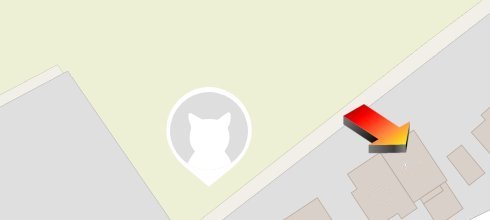 The tracker was exactly where the red arrow was pointing - far away from the position Tractive was showing. I've written to Tractive about whether the information is always so inaccurate, but so far we've received a "Your query has arrived, we'll take care of it and get back to you" response. However, the mail also contains a note on how to contact Tractive with urgent requests (e.g. animal disappeared), but my question is not urgent now, so I'll wait and see.
Today a second tracking after the tracker was loaded overnight. This tracking is a little more accurate, but still far away from the actual location of the tracker:
Tracker1.jpg (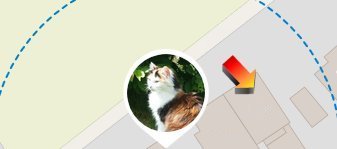 )
Two houses difference I find a little too much - how can you find a cat there?
PetPointer was a lot more accurate, unfortunately I didn't take many screenshots of PetPointer. I find only one where I had activated the length of stay: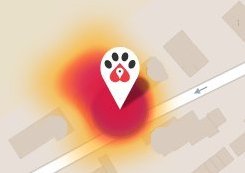 With a little imagination you can see that the lady (or the tracker) was at home at the time of the tracking.
I just have to observe that. Minnie is on the way with the tracker since a few minutes, let's have a look.