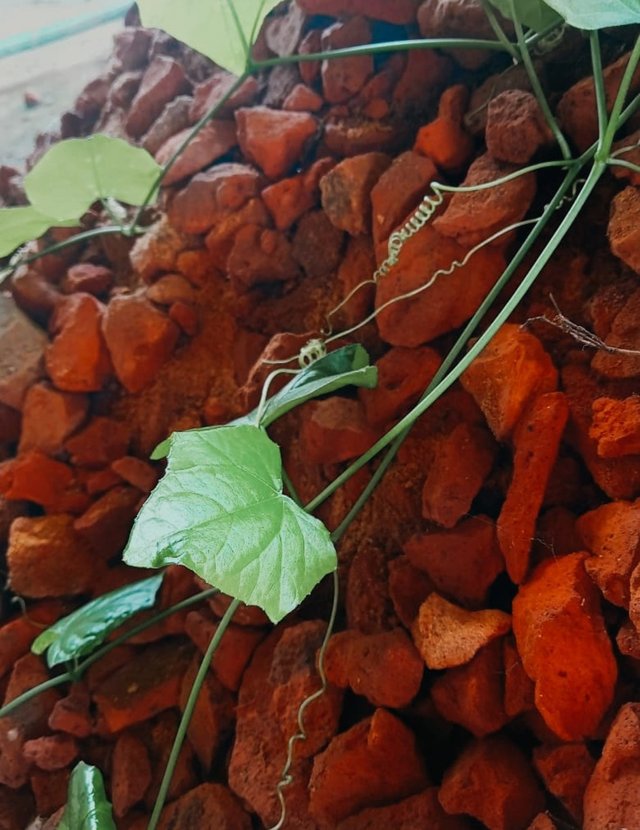 I don't know if photography has been great. However, the green vine leaves are quite compatible with red bricks. These pieces of brick have been stored for a long time. Although it was brought to build a house, it survived to some extent. In a matter of days, the remaining pieces of brick have been turned into weeds.
There is one thing to think about. That is what concrete kills green. Today there are only a few leaves left on that concrete. Many trees around us are dying to make a home. We should build our infrastructure with a little space for the trees around us.
---
I use my camera to Shoot or captures Pictures. I am not an Official photographer.
Besides Shots I have edit photos with my phone! Sometimes I Will share edited photos. I edit photos to make them look More gorgeous.
---

I do use Polish to edit photos. So that my photos looks very nice and more gorgeous. You can do anything with your picture using polish. I do recommend you to use polish as your photo editor. You can easily download it from Below


For Android || For IOS

---
Earn Crypto for Publishing and Reading Join Now - Registration is Free and Instant. Publish0x is a Blogging website where you can earn money just by tipping peoples. You can also Create post there and earn by them. Join the awesome Website Today!


---
---
** TᕼᗩᑎK YOᑌ **
ʄօʟʟօա | Share | ʊքʋօȶɛ