My wife and I were headed home on Highway 12 one night before Christmas, as we entered the river valley we saw the fog start to grow, it was so beautiful! there was a slight breeze blowing (if any) and the fog looked as if it were flowing like a river. We live in a small town off the highway between Aberdeen on the Pacific coast and Olympia Washington, in the Pacific Northwest.
When we arrived home I hurried into the house and fired up my new DJI Mavic Pro Drone. I thought to myself what it would look like on top of the fog? There wasn't much time left in the day and it was sunset already, I have to admit I was in a hurry and shaking like a little kid with a new toy.
I have no photography experience, I am no professional but I do have to admit it was good. The camera on the drone has a 3 axis gimbal that allows for smooth photography and video. I did not use any filters of any kind and there is no use of photoshop. What you see is a still photo taken while taking video. The photo was actually an accident because I had pushed the picture button by accident and discovered it in the files while downloading the video. The original video is posted on my YouTube channel.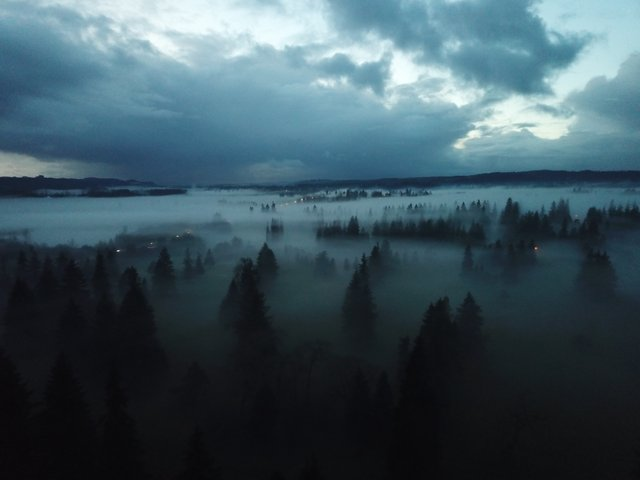 I hope you enjoy the photo and don't forget to watch the video and like and join my channel for more videos.