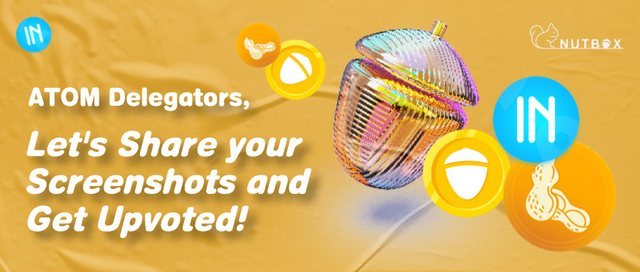 Share on Steem and Get Upvoted
WhereIN DAO was launched on April 25, 2022, and at the same time the Delegate-ATOM-Mine-WIN staking pool was also launched.
On April 30, 2022, the Nutbox ecological communities of Walnut, Peanut, and WhereIN all started ATOM delegation mining. So far, a total of 45 addresses have participated in the Nutbox ecological community ATOM delegation mining.
As Nutbox validator node operators, we want everyone to be seen by each other. Hence a special event is launched where users can share their screenshots of ATOM mining by delegation and get upvotes from @nutbox.mine, @wherein, and @wherein.dao.
Event Rules
Participate in any of the ATOM delegation mining activities with Walnut, Peanut or WhereIN, with delegation amount greater than 10ATOM;
Screenshot your ATOM delegation page and write down your experience and opinions regarding the delegation, turn into a post (200 words or above), publish it on the Steem blockchain
Add the #atom-nutbox tag on your post
@nutbox.mine, @wherein, @wherein.dao will upvote your post according to the post quality, the upvote weights are 30%, 10%, 5% respectively
Event Time: May 13th 2022 - May 20th 2022
Join our Discord: https://discord.gg/NASX7ECzzW
About @nutbox.mine, @wherein, @wherein.dao
@nutbox.mine(1.276 Million SP, full upvote worth $18.88)
@wherein(1.127 Million SP, full upvote worth $13.03)
@wherein.dao(358K SP, full upvote worth $5.45)
Tutorial on ATOM Delegation Mining
https://medium.com/@nutbox.dao/nutbox-now-supports-cosmos-chain-walnut-peanut-and-wherein-starts-delegate-atom-mining-5247f7533a8a
Contact Nutbox
Twitter: https://twitter.com/NutboxDao
Telegram: https://t.me/nutbox_defi
Discord:https://discord.gg/3XPGFbEAjJ
Github: https://github.com/nutbox-dao
Notion: https://nutboxwalnut.notion.site/Nutbox-WiKi-f771539074914594b162975739bd7eb7