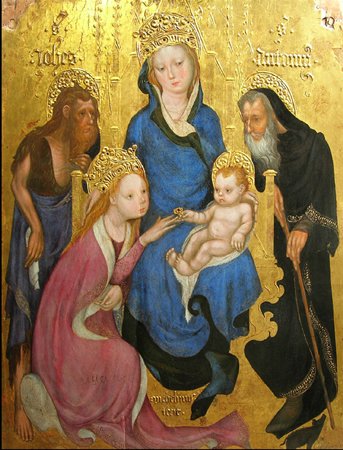 St. Catherine of Siena, usually characterized by a wheel in the symbolism, is painted in this wedding,  a mystical wedding, where the baby Jesus hands her the ring; in this table made by  Michelino da Besozzo, Santa Caterina has the look of a young girl, slender and rosy, kneeling to receive the ring,  the ring the Child Jesus is putting. 
The child is sitting on the knees of the Madonna, a Madonna of humility, with a tender skin and a sweet look, the throne is only hinted  in the background  so she is not a "throne Madonna" like Giotto's or Duccio's Madonna, her throne is hidden as a sign oh humility.  On the sides, to act as witnesses at this wedding, there are St. John the Baptist and Saint Anthony Abbot, both with darker skin and more realistic faces  than the women, the darker faces are influences of greek art and a little bit he was inspired from Gentile da Fabriano art. 
 In this table of Michelino da Besozzo find themselves the most characteristic stylistic features of his pictorial art, pink and delicate maidens with  childish faces  ,tenderness all around, girls with  fashionable clothes and long hands , ethereal bodys of the female characters, they floating in the gold behind like angels , delicate colours of the clothes and in the other side  a strong  realism of the male characters, with expressive faces, look for example  at Saint Anthony and his emaciated body and face, and the look in his eyes so sad, so true!. 
It' is close to renaissance art and Michelozzo feel some renaissance influences and did some steps in it,  but he still remain a middleage painter , with a first 1400 painting style.  
Curiosity: Saint Catherine is the saint of the students that pray her for having good results in their studies.
As  student of art with a very hard exam next week i will do both, study and pray, im sure both will give me a good result! :P
You can Find it in the Pinacoteca Nazionale, Siena city, dated 1420.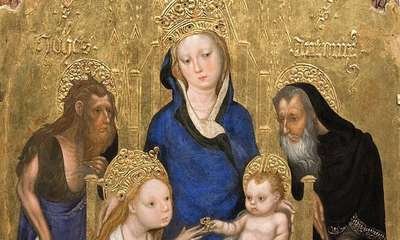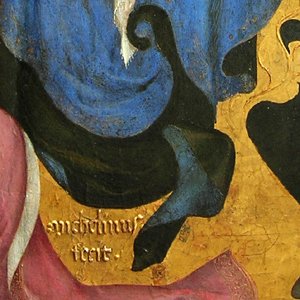 Here you can see the working on the gold foil, typical of those years art.
Details
(source of the pictures : www.turismointoscana.it and pinacoteca di siena website)
If you like art and history, stay tuned and follow me, i will post something new  about art or history very soon . 
Thank you all steemians.