背景 Background
Nutbox发展至今,Peanut的TVL已达100万SP,目前的成果与各位大使的宣传与推广密切相关。
Global Ambassador项目自3月份启动以来,已经有8位新大使参与其中,一位来自印度,一位来自委内瑞拉,两位来自韩国,一位来自中国,一位来自马来西亚,还有两位来自美国。经过8位大使的努力,正在有越来越多地区的人了解到Nutbox。
为奖励大使团队的贡献,每月会根据各位大使的工作给与PNUT的回报,互惠共赢,以期未来更好地发展。
Since the development of Nutbox, Peanut's TVL has reached 1 million SP. The current results are closely related to the publicity and promotion of the ambassadors.
Since the launch of the Global Ambassador program in March, 8 new ambassadors have participated,1 from India,1 from Venezuela, 2 from Korean, 1 from China, 1 from Malaysia, and 2 from the United States Through the efforts of 8 ambassadors, more and more people in the region are learning about Nutbox.
In order to encourage the contribution of the ambassador team, PNUT will be rewarded every month based on the work of the ambassadors. Hope that we will develop better in the future.
主要工作 Main Task
下图为大使团队上月的工作内容和相应的PNUT申请量:
The following figure shows the work of the ambassador team in the last month and the number of PNUT applications: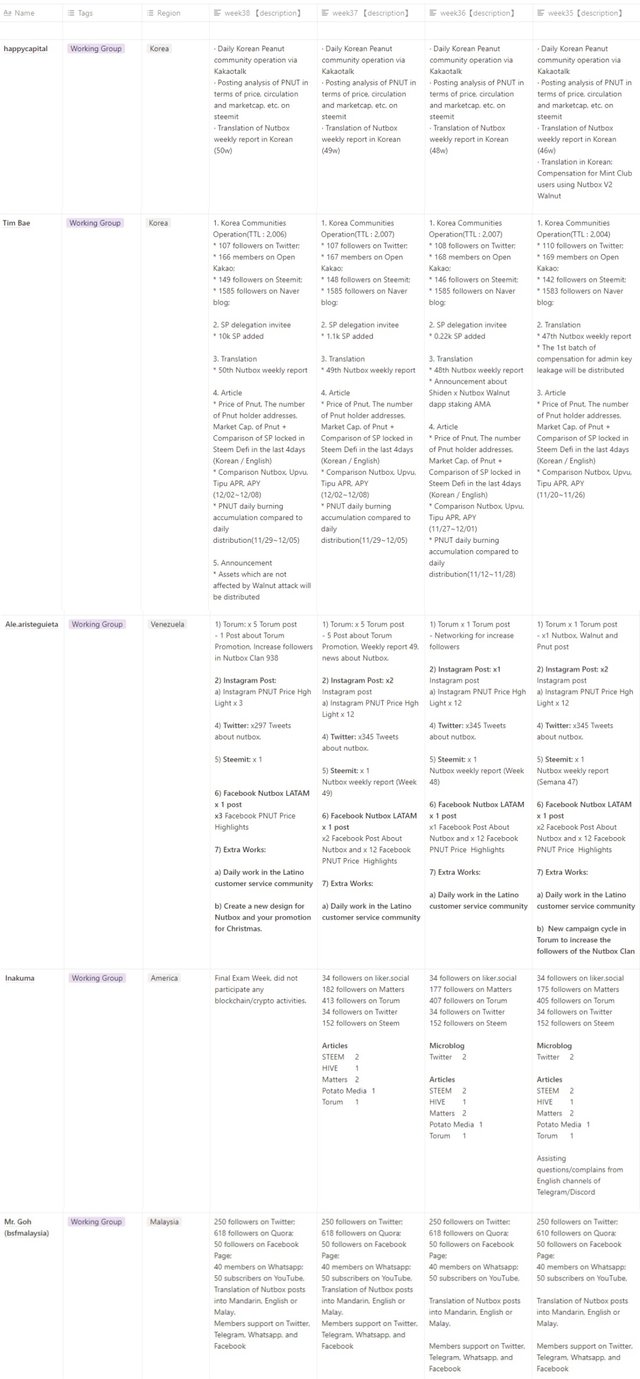 上月奖励 Monthly Reward
基于最新的大使奖励体系,【https://blog.nutbox.io/@sunnyz/ambassador-reward-system-adjustment】11月大使的奖励如下:
注意:由于黑客攻击事件导致PNUT贬值较大,此月特别加入贬值补偿(Depreciation Compensation),数额根据每位大使的工作量发放,后续会根据市场情况取消此部分奖励。
Note: Due to the hacking incident, PNUT has depreciated significantly. Devaluation compensation has been added this month. The amount will be paid according to the workload of each ambassador. This part of the reward will be cancelled in the future according to market conditions.
Reward of November

TTL:164.5k
大使更新 Ambassador update
综上,Nutbox感谢各位大使在这段时间的勤劳工作,他们在各个国家和社区为推广Nutbox做出了贡献。
Nutbox team 根据大使们在这段时间的表现,对于大使的调整如下:
大使调整:
① 韩文社区的 @timbae ,中文社区的 @abcallen,马来西亚社区的 @bsfmalaysia 以及西班牙语社区的 @ale.aristeguieta 自加入大使团队以来,认真履行大使职责并积极参与到Nutbox的发展中,故按照大使路径将以上4位大使升为Senior Ambassador,希望大家未来保持热情共同努力💪
② 韩国社区的 @happycapital 由于在黑客攻击事件中未能保持和Nutbox团队的信息及行动同步,所以将暂时从大区大使调整为working group成员,依然感谢 @happycapital 的工作。
以上调整将从本贴发布时生效。
In summary, Nutbox is very grateful to all the ambassadors for their hard work during this period of time. They have contributed to the promotion of Nutbox in various countries and communities.
According to the performance of the ambassadors, Nutbox will adjust ambassadors as follows:
① Since joining the ambassador team, our 4 ambassadors (@Timbae in the Korean community, @abcallen in the Chinese community, @bsfmalaysia in the Malaysian community, and @ale.aristeguieta in the Spanish community) have fulfilled their duties as ambassadors and actively participated in the development of Nutbox. Therefore, The above 4 ambassadors will be promoted to Senior Ambassadors according to the ambassador path. Hope that everyone will keep enthusiasm and work together in the future💪
② @happycapital of the Korean community will be temporarily adjusted from the regional ambassador to a member of the working group because he didn't keep up with the Nutbox team's information and actions during the hacking incident. Still appreciate @happycapital's work.
The above adjustments will take effect when this post is published.
About Nutbox
Nutbox is the community hub of Web3.0, providing out-of-the-box functionalities to building DAOs, onboard users and bootstrap communities.
Nutbox aspires to create an interconnected ecosystem of users, communities, and protocols, to empowers seamless web3.0 participation.
Nutbox Introduction
Webside:https://nutbox.io/
Docs:https://www.yuque.com/guazi-v0ora/gpx7db/ii9g6q
Whitepaper:http://docs.nutbox.io
Nutbox Guide
EN|https://blog.nutbox.io/@nutbox.mine/the-new-ui-of-nutbox-is-about-to-online-and-the-tutorial-of-new-uiCN|https://blog.nutbox.io/@abcallen/wherein-1615536657147-s
Contact US
Twitter: https://twitter.com/NutboxDao
Telegram: https://t.me/nutbox_defi
Discord:https://discord.com/invite/zPkMuGY
Github: https://github.com/nutbox-dao
WeChat:Nutbox Lab
Vote For US
Please vote for our witness nutbox and smt-wherein:
https://steemconnect.wherein.mobi/sign/account-witness-vote?witness=nutbox&approve=1
https://steemconnect.wherein.mobi/sign/account-witness-vote?witness=smt-wherein&approve=1